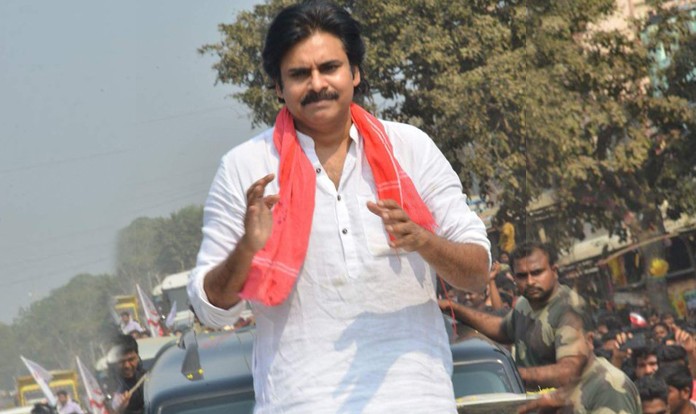 Jana Sena party chief Pawan Kalyan for the first time expressed his intention to become the Chief Minister of the state.
Addressing a huge gathering at Rajahmundry on the occasion of fifth formation day of the party, Pawan said that he was announcing his intention to become the chief minister for the first time publicly as his motive is not to earn money but to serve the poorest of the poor. He said he was fed up of seeing how the contemporary politics had deteriorated and wants to usher in a change. That was the intention of floating Jana Sena and now he feels that unless he was is in the seat of power, it may be difficult to deliver what he wants to.
Pawan said that if voted to power Jana Sena would give Rs 8000 per acre to the farmers and in addition all the small farmers will be given a pension of Rs 5000 and free solar motors. He also promised one lakh jobs for the youth and 10 lakh jobs in five years.
For muslim minorities, Pawan said his party would implement Sachar commission recommendations, five percent reservation for BCs in politics, corruption free administration, scrap Central Pension scheme, 300 days of employment guarantee for fishermen and during the days when they cannot go into the sea, they will be given financial assistance of Rs 500 a day.
Among other assurances were pure drinking water to all within two years of coming to power, implementation of land acquisition act 2013 to those farmers who give land for developmental activities, strive for achieving 33 percent reservation for women and introduce tough laws for safety of women, preference to DWACRA women local body elections, free gas cylinders for women, distribution of free sarees to muslim and Christians for any one festival of their choice, Marriage halls in each mandal, construction of child care centres for benefit of working women and loans for women at 25 paise interest per month. He alleged that in 2014 elections he was used by the BJP and TDP for their political advantage but now Jana Sena will usher in change in politics, he said. He said he has no personal rivalry or animosity with the Chief Minister N Chandrababu Naidu or opposition leader Y S Jaganmohan Reddy but when he criticised the policies of YSRCP, they had resorted to personal attack on him.
Taking pot shots at Jagan, Jana Sena leader said the YSRCP leader has no idea of what kind of problems he had faced in life. "Unlike Jagan, I did not resort to amassing of property worth hundreds of crore and divide people on the basis of caste. Unlike Jagan I will not indulge in Hungama by holding BC meetings but will unite all castes and communities," he said and challenged if Jagan could give Kadapa MP seat to a BC.
Money and property, pawan said does not give him happiness. He said he was not a leader of any one community. He further said that when people want change, he would extend Jana Sena party to Telangana.
Related Posts