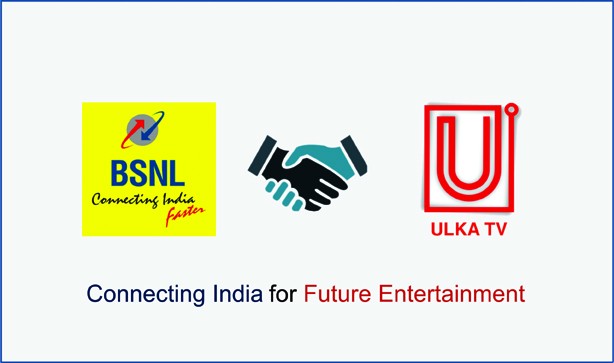 Vijayawada: BSNL AP – City Online Media Pvt. Ltd. have joined hands for distribution of Digital Television Channels in AP
BSNL AP Circle partnered with City Online Media Private Ltd, to deliver IPTV services to its Fibre Broadband Customers with ULKA TV Brand, as a Value-Added Service.
All existing as well as new customers of BSNL Fibre Broadband (FTTH) in Andhra Pradesh can avail this offer from BSNL-City Online Media ( brand named ULKA TV).
ULKA TV is responsible for providing uninterrupted TV broadcast services through CDN Servers for delivery of digital TV channels on BSNL's IP network in the state of Andhra Pradesh.
Bharat Sanchar Nigam Ltd (BSNL) is state owned, second largest wireline telecom service provider which has vast pan India optic fibre network in every nook and corner of the country.
With its Pan India high capacity IP-MPLS and Optical Fibre network, BSNL is working with a mission towards proliferation of broadband services in India so as to foster socio-economic development in line with the vision of 'Digital India' programme of Government of India with the vision to transform India into a digitally empowered society and knowledge economy.
BSNL has huge FTTH (Fibre To The Home) customer base of 27 Lakh across the India along other fixed/mobile telecom services. Addition of IPTV enables its customers to watch 1000+ Television Channels together with their internet on a single connection.
ULKA TV is premier IPTV service provider having service in IPTV STB, SMART TV and Mobile products. ULKA TV uses the latest 4k technology with HEVC (High Efficiency Video Coding) to deliver the best quality video in the industry.
ULKA TV STB will provide popular OTT Applications and 1000 Live Satellite TV channels and local stations using BSNL fibre broadband networks. No dish antennas, holes in the windows and walls for getting TV signals required to their television sets. No signal loss during heavy clouds or rains.
BSNL fibre broadband consumers will have choice of portable set-top-boxes (Sticks & Boxes) LAN and Wi-Fi Access for using ULKA TV television services.
ULKA TV does not consume much internet bandwidth unlike OTT Applications and the service is delivered from the local CDNs installed in BSNL IP Transmission Network.
The Indian Government is keen on expansion of broadband cable services across the country penetrating into remote and rural areas. IPTV services by BSNL will convert households from simple television households to multi-play internet households.
ULKA TV STB will help to provide two way communication on TV sets which support educational applications without a laptop or computer by adding a Bluetooth keyboard. ULKA TV STB can provide two way video conference to IPTV Consumers by simply attaching USB Camera. Health care, Education, Tax collection and other public utility services can be delivered using ULKA TV STB to households which are not using smart phones.
This long awaited and much demanded BSNL-ULKA IPTV service in Andhra Pradesh is going to be inaugurated by the Shri Vivek Banzal, Director (CFA), BSNL Board on 20.01.2023 at Vijayawada.
Thus, with the Joint venture of BSNL and Ulka TV, Television distribution in the country entered into a new era of high quality 4K TV distribution.
BSNL IPTV Plans Details
| | | |
| --- | --- | --- |
| BSNL IPTV Plan | Add on Package | Price in Rs. (Excluding GST) |
| BSNL Free To Air Pack | 350+ FTA Channels | 130 |
| BSNL SD Basic | 350+ FTA + 32 Pay channels | 229 |
| BSNL SD BONANZA | 350+ FTA + 52 Pay channels | 259 |
| BSNL HD Basic | 350+ FTA+ 30 Pay channels | 279 |
| BSNL HD BONANZA | 350+ FTA+ 53 Pay channels | 329 |
Related Posts