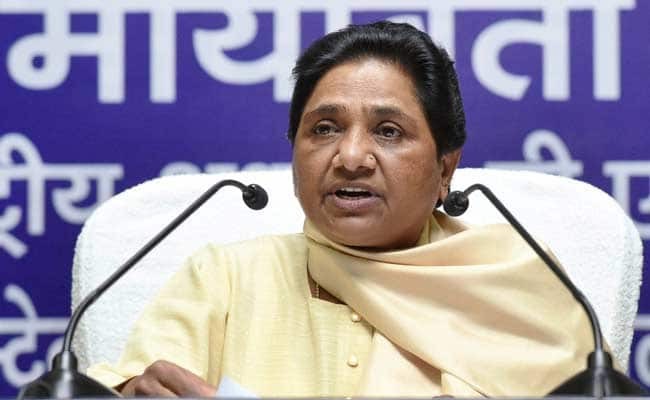 Escalating the verbal spat over Uttar Pradesh Chief Minister Yogi Adityanath's recent "Ali- Bajrangbali" comment, Bahujan Samaj Party (BSP) chief Mayawati on Saturday said that both Ali and Bajrangbali were here own people.
Addressing a joint rally with Samajwadi Party chief Akhilesh Yadav in Uttar Pradesh's Badaun, Mayawati said that she wants both Ali- a revered figure in Islam and Bajrang Bali- Lord Hanuman, referring to the Muslim and Hindu communities.
"I want to tell him (Adityanath) that both Ali and Bajrang Bali are ours.... So we want both Ali as well as Bajrang Bali. We particularly want Bajrang Bali because he belongs to my own Dalit community...I'm not saying this. Yogi Adityanath was the one who said that Lord Hanuman was a forest dweller and Dalit," she said.
"I am very thankful to Yogi-ji that he has given us important information about our ancestors. So, it is a very happy moment to note that we have both Ali and Bajrang Bali and their coming together will give us very good results in these elections," she added, news agency PTI reported.
Adityanath landed in trouble on Tuesday after he made the "Ali- Bajrangbali" remark, attacking the BSP chief over her earlier appeal to Muslims to vote for the opposition alliance in Uttar Pradesh.
Addressing a rally in Uttar Pradesh, Adityanath had said, "If the Congress, the SP and the BSP have faith in Ali, then we too have faith in Bajrang Bali. The opposition has acknowledged that the followers of Bajrang Bali will not vote for them."
The Uttar Pradesh CM was also issued election code violation notice from the Election Commission for his statement.
In her address to the public, Mayawati also hit out at the BJP and Congress alleging that both seek votes from the people of the country by making false promises. She also asked them not to fall prey to hollow promises of the BJP and Congress.
Mayawati-led BSP is fighting the Lok Sabha election along with Samajwadi Party and Rashtriya Lok Dal in Uttar Pradesh, which goes to poll in all seven phases of polls.
Related Posts