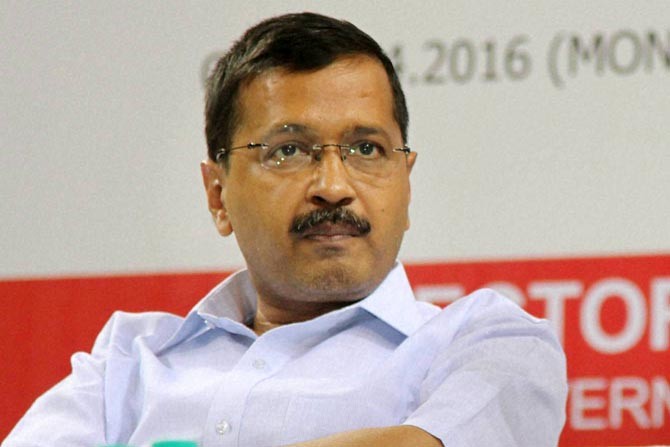 Delhi Chief Minister Arvind Kejriwal blasted PM Narendra Modi-led government for writing a letter to Pakistan's Inter-Services Intelligence (ISI) and inviting a Pakistani team to probe the 2016 Pathankot attack.
Addressing an election rally in Goa's Margao Kejriwal said that the BJP talks about 'strong leaders and strong government' and there have been many weak governments in the last 70 years but no government has done what PM Modi has done.
Can Pakistan get a better PM of India than this, he questioned. After the Pathankot attack, in which seven security personnel had died, a five-member team of Pakistani investigators, including officers from the Pakistan military and ISI, had visited the airbase.
Questioning Pakistan PM Imran Khan's recent statement in which he pitched for a second term for PM Modi, Kejriwal said both the countries faced warlike situation after Pulwama terror attack but recently Khan said that Modi should once again become PM.
"What is the matter? What is going on between Modi ji and Imran?" he questioned. In an interview to an international media house, Imran Khan had said that there may be a better chance of peace talks with India on Kashmir if Narendra Modi's Bharatiya Janata Party wins the 2019 general election.
"Perhaps if the BJP - a right-wing party - wins, some kind of settlement in Kashmir could be reached in Kashmir," Khan had said in an interview.
The Delhi CM also quoted statements made by BJP president Amit Shah and MP Sakshi Maharaj and said there would be no elections in the country if the saffron party returns to power after the ensuing Lok Sabha election.
Shah had said that if the BJP wins the 2019 polls then no one can remove the party from power till 2050 while Sakshi Maharaj had said last month after these elections there will be no elections in 2024.
Meanwhile, the BJP and AAP engaged in a bitter war of words over sealing drive in Delhi after Delhi Police clashed with the traders. While Kejriwal said that if Delhi had statehood he would not have allowed the sealing drive, the BJP said that the MCD officials began to seal illegal factories following the NGT order.
Union Minister Hardeep Singh Puri termed the Mayapuri sealing drive violence a "failure" of the Delhi government, "particularly of Chief Minister Arvind Kejriwal", reported ANI.
He further said that the pollution action plan by the NGT was supposed to be implemented by the Delhi government's concerned department but they failed to do it.
Related Posts