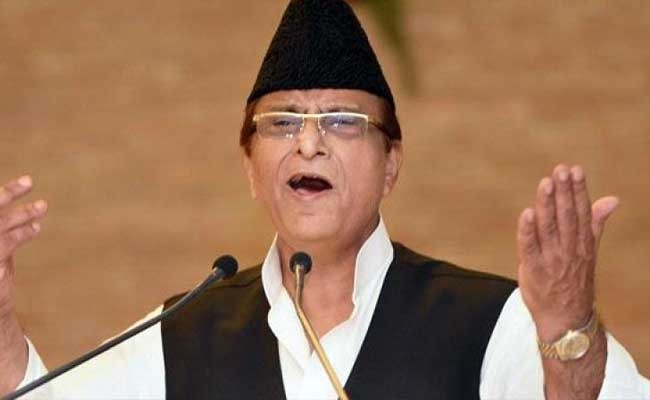 After his shocking and crass comment against BJP candidate Jaya Prada referring to her "khaki underwear", senior Samajwadi Party leader Azam Khan on Monday attempted to defend his rather misogynistic remark. Khan claimed that he had not made any objectionable remark against anyone and even blamed the media for "distorting" his statement.

An unapologetic Khan stated that if he was found guilty of insulting anyone, he would not contest the ongoing elections. Speaking at an election rally in Rampur, from where he is fighting the 2019 polls, Khan made an apparent reference to Jaya Prada, who is contesting against him on a BJP ticket. He said, "Someone that I mentored personally and introduced to Rampur, someone who led you as a leader or 10 years, you took 17 years to identify them but I recognised in just 17 days that even the underwear worn by them is coloured khakhi."

Notably, he made the statement in the presence of Samajwadi Party chief Akhilesh Yadav. Khan's comments quickly generated controversy, with the National Commission of Women lashing out at him for the abusive remark against the woman leader.

Clarifying his stand on the issue, Khan claimed that the media was carrying out a "personal vendetta" against him and were "trying to destroy him." The SP leader insisted that he had not named anyone in the speech and that he would withdraw his candidature from the ongoing elections, if found guilty.

"I have said that people took time to know real face in reference to a man once said that he brought 150 rifles with him and if he sees Azam, he would have shot him dead. My leaders also did a mistake. Now, it has been revealed that he has an RSS pant on his body. Short is worn by men," Khan told news agency ANI. He further said, "I was a nine-time MLA from Rampur and been a minister. I know what to say. If anyone proves that I have named anyone and insulted anyone by name, I will step back from the elections."

He also hit out at the media over the controversy. He said, "I am disappointed. Media did not like me; I also did not like them. They have caused damage to the country."

Meanwhile, the Bharatiya Janata Party (BJP) on Monday filed a case against Khan over his derogatory remark against its Rampur candidate. The saffron party has demanded that Khan's nomination from Rampur Lok Sabha polls should be cancelled in view of his derogatory remarks.

The NCW took suo moto cognisance of Khan's statement and said that it will send a notice to the SP leader and would request the Election Commission to bar him from contesting the elections.
Related Posts