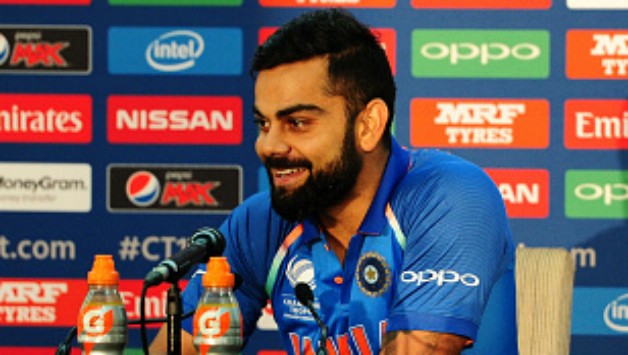 The Virat Kohli-led Indian side is set to leave for England on Wednesday for the 2019 World Cup and will open their campaign against South Africa on June 5, once they are done with their warm-up games against New Zealand and Bangladesh.
The skipper and head coach Ravi Shastri addressed the media in Mumbai on Tuesday (May 21) and here's what they had to say. Excerpts:
Expectations from World Cup
Kohli: The only expectation we have is to play really good cricket and that has been our focus and that's why the results have followed in the last two-three years. We are feeling quite balanced and strong as a side. You saw it in the IPL as well, all the players who are in the squad are in great form and have been playing really well. From that point of view, we expect ourselves to play the best cricket that we can. We will also have to focus on the process as well and that's the only expectation that everyone has from the team.
On adapting to English conditions
Kohli: It's always good to go to anyplace in advance. It does get rid of all the nerves that you have as a side going into the tournament like the World Cup. That's the most important thing I guess because playing white-ball cricket in England, playing an ICC tournament, the conditions aren't going to be that difficult compared to Test cricket. So, handling pressure is the most important thing in the World Cup, and not necessarily the conditions. From that point of view, going in advance will be helpful.
Secondly, all the bowlers that are in the squad, even during the IPL, they were preparing themselves to be in the zone of playing 50-over cricket. If you saw all the guys bowling, no one looked tired or fatigued. They looked fresh. So the ultimate goal in the back of their mind was always to be fit for the 50-over format and that was communicated before the IPL started.
On Kuldeep Yadav and Kedar Jadhav being out of form in IPL
Kohli: In hindsight, if you look at someone like Kuldeep who has had so much of success, it's important to see that there will be a period that won't go his way. We are glad that happened during the IPL rather than in the World Cup. He has time to reflect and correct things and come into the World Cup even stronger. We know the kind of skills he possesses and along with Chahal, they are the two pillars of our bowling attack, if you want to say that.
Kedar Jadhav. (Image: Reuters) Kedar Jadhav. (Image: Reuters)
Kedar also, we understand the kind of pitches they got at home. We are not to worried about him as he was looking in good space. Yes, he couldn't get runs but T20 is such a format where if you don't get few runs, you can go on like that for a few games. We are not worried about anyone's headspace. Everyone is very confident and are enjoying their cricket and that's the only thing you require from your players. The team that can handle the pressure is the one that does well in the World Cup. Secondly, looking at the magnitude of the games, the team that stays focused and balanced is the team that goes a long way in the tournament.
On batting-friendly surfaces in England
Kohli: In an ICC tournament, the pitches are going to be very good. It's summer in the UK, so conditions are going to be nice as well. We expect high scoring games but the bilateral series compared to World Cup is completely different. You might see a lot of, I won't say low scoring games, but those 260-270 kinds of games and teams defending it successfully because of the pressure factor. We expect all kinds of scenarios in the World Cup but yeah, there will be few high scoring games looking at the conditions.
On challenges that the format and other teams possess
Kohli: Well, personally I think it is going to be the most challenging World Cup of all the three that I have been a part of. Because of the format as you just mentioned. Looking at the strength of all the sides as well. If you look at an Afghanistan side of 2015 from now, they are completely different side and any team can upset any given side on their given day and that is one thing that we have in mind. As I said, focus will be on the best cricket that we can play and live up to our skillset and standards that we have set for ourselves. You know we will probably be on the right side of the result more often. So that is gonna be the key. I think every game you have to play to the best of your potential. Because it is not a group stage anymore, it is just playing everyone once and I think it is a great thing to have for any team. It is gonna be a different challenge and something that every team will have to adapt very quickly.
How important is it to enjoy your cricket and not get under pressure?
Shastri: As far as this tournament is concerned, it's an opportunity. If you look at this team and what they've done over those 5 years, you know they've played brilliant cricket. Like Virat said, it's about striving for consistency and not playing any differently just because it's a World Cup. World Cup might be a stage but that stage is to be enjoyed. So, one of the most important thing is to get out there and enjoy the World Cup and if we play to our potential, the cup might be here.
On growing competition in World Cup
Shastri: Like Virat mentioned, any team can beat any team on a given day. If you look at 2014 and 2019 now, the gap is much closer between teams. You see what Afghanistan was in 2014 and see where they are now. See what Bangladesh was and what they are now. So, it's a strong competition. West Indies, if you look at that side on paper, they're as strong as any other team. We saw some of them in the IPL, where they hit the ball really well. So, it's going to be fantastic. The good thing though is there are those nine games, rather than just three or four games...
On having an IPL-like playoffs format in World Cup
Shastri: I have always said that. That's why the IPL format is fantastic, you never know though. In the future, down the line, they might think of doing it. (Top two teams in the group stage can be out of the competition if they have just one bad day in the knockout) This can happen, but all you can say now is bad luck. You can't prepare for tough luck.
How much do overhead conditions matter in England?
Shastri: Our mantra will be to be flexible and be flexible according to the conditions because the pitches might be flat in England but if the overcast conditions change then you've got to be up with it. Any other country in the world, overhead conditions don't matter that much but in England they do. It differs from venue to venue. In London it might not make a lot of difference, but if you go up north and it gets overcast, you will see things happening.
Do India have a good pace bowling attack to defend totals in English conditions?
Shastri: I would think so, because if you look at it, there are no new bowlers there. This is an experienced unit. These guys have been together for the last four to five years and they have bowed as a unit together. We have accomplished what we set out to do in Test match cricket when it came to bowling as a unit and the endeavour will be the same here in the World Cup. Each one complements each other and keeps the right pressure all through.
Biggest learning from the IPL after RCB lost six games on the trot.
Kohli: After losing six games, we literally came to a point where we told each other, this has not happened to anyone before. So I realized that after a certain stage things just are not in your control so you have to accept what it is and work things accordingly. You just have to be present in the moment and try and win every moment if possible. The more you expect things to happen, the more frustrated you become. That is what I experienced in the first half. The second half then was very different also the players got together nicely and this situation was different. The most important thing I have learnt is that even if you are in a situation where it is a must-win game, if I am thinking the day before in my room, 'what if we don't?' or 'what might happen and what might not'. You just have to arrive on that day and try and do your skill to the best of your potential and that is about the only thing that you can do in this sport. As much as we don't talk about it, there is another opposition playing and there are eleven other players who are probably more passionate that you are on that particular day. So you have to expect things the way they are and that is the biggest learning that I took from this IPL.
Will the format of the World Cup cause a potential burnout amongst players by the time the knockouts arrive?
Kohli: It is going to be challenging but the good thing is that every game has a decent gap between each other. So from that point of view, I don't think that players will be burnt out even if we have hectic games or intense games immediately. We will always have time together to regroup and work on the next one. So the best thing is that we have four tough games straight up and that will just the tone nicely for us. Everyone has to be at their best game intensity from the first match onwards and you don't have any room for complacency and that is why it is the World Cup.
Image: ICC Image: ICC
That is why it is the most important tournament in the world and we expect that kind of pressure from the first second of stepping onto the field. We can't even think that maybe the week onwards we'll get into it. No, you have to arrive on the day match ready, absolutely 100% match intensity, start from there and start building from there. This the challenge. If you look at all the top-class clubs in the world, for example, in football. They maintain their intensity for three-four months in a Premier League or in the La Liga. So, why not, if we get on a role and maintain our consistency, we should be able to do it for the length of the tournament.
Does playing only day games affect India's campaign in any way?
Kohli: No, I don't think it affecting the campaign anywhere. It is just that we have to play good cricket, doesn't matter if we are playing day/night or just day games. Eventually, you have to play good cricket to win and that is probably the bottomline.
On MS Dhoni's role
Shastri: Massive, like it has always been. You do not need to tell him anything, he's someone who'll be right there, doing exactly what he does. His communication with Virat has been fantastic. You know, as a keeper he's shown over the years that there's no one better than him in this format of the game. Not just when it comes to taking catches but inflicting those run-outs, those stumpings. Those little moments in the game that can change the game on its head. There's no one better than him and what was great to see was the way he was moving in the IPL, especially when he was batting. The footwork, the power with which he was hitting his shots. He will be a big player in this World Cup.
Any special plans for Pakistan?
Shastri: In a World Cup, you can't think about one team. Like Virat said, from the first ball there has to be the intensity. No matter which team. If that kind of intensity is there, it will remain in every game so it doesn't really matter who the opposition is.
Related Posts