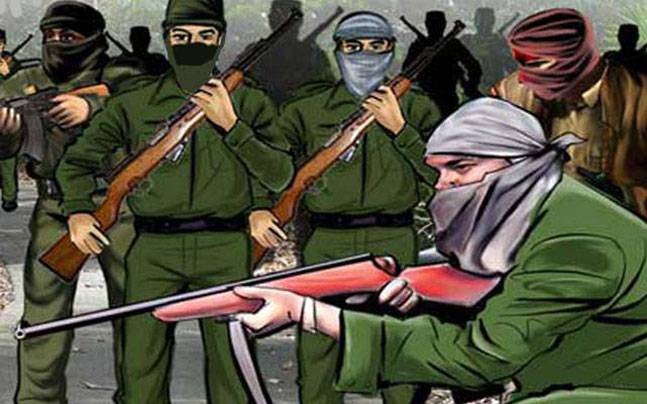 Security forces thwarted ambush attempts by a group of Naxals in Chhattisgarh's Jhori village on Monday and engaged in a brief firing with the militants.
Narayanpur Superintendent of Police Mohit Garg said that security forces carried out an Area Search and Domination exercise near Jhori village based on inputs of suspected movement of a small team of Naxals in the area.
Sources had tipped off the police claiming that the Naxals planned to execute an attack before Independence Day, Garg said.
When the security forces cordoned the area, they discovered that the Naxals had blocked the road using fallen trees and had also posted banners on them.
The forces found out that the Naxals had laid an ambush with multiple-command IEDs in order to target security forces and civilians who would cross the road.
As the security forces followed tactical movements and cordoned off the area, the group of Naxalites blasted the improvised explosive devices (IEDs) and also opened fire on the security personnel, Garg said.
The senior police official said that following a brief exchange of fire for 10 minutes, the Naxals ran into jungles and hillocks in the region. He added that security forces were safe following the attack and search operation to find the Naxals was underway.
Earlier this month, security forces had gunned down seven Naxals, including 5 women in an encounter in Chhattisgarh's Rajnandgaon district. A jawan of District Reserve Guard (DRG) had also suffered injuries in the attack.
Giving details of the operation, Sukma Superintendent of Police Shalabh Sinha had said, "In an exchange of fire with our District Reserve Guard team near the forest of Birabhatti, we have recovered a Naxal's body identified as Madkam Hidma. He carried a reward of ₹ One lakh for his capture or information about. Two country-made weapons recovered from the site."
The encounter had broken out when a joint team of DRG and local security officials were carrying out a counter-insurgency operation in a forest near Sitagota-Serpar villages under Baghnadi police station area.
In July, security forces eliminated top Naxal commander Madkam Hidma in the Sukma area of Chhattisgarh. Hidma was regarded as the mastermind behind the 2017 attack in the district in which 25 CRPF personnel were killed.
Hidma, 25, had played major roles in several operations against security forces in Bastar.
He was believed to be an expert in guerilla warfare and was a top commander of the organization's armed cadre.
Related Posts