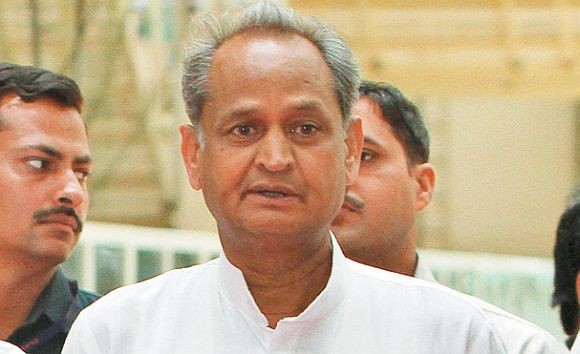 The Ashok Gehlot-led Congress government has sanctioned Rs 188 lakh for madrasas in the state after the Centre stopped giving grants to them.
Minority Affairs Minister of the state of Rajasthan Saleh Mohammad has accused Prime Minister Narendra Modi of not fulfilling his promise of taking every community together by referring to the PM's call for winning everyone's trust (Sabka Vishwas). He further said the decision to stop the grant of madrasas is directly affecting the education of Muslim children.
"All the tall promises made by the Centre and PM Narendra Modi for helping the minorities have failed. I would like to thank Rajasthan CM Ashok Gehlot for providing Rs 188 lakh as grant for madrasas," said Saleh Mohammad.
The Centre used to provide a grant of Rs 5,000 at the primary level and Rs 8,000 per madrasa at upper primary level.
In June this year, PM Narendra Modi-led BJP government announced scholarships for over 5 crore students from minority community including 50 per cent girls, in the next five years. Making the announcement, Union minister Mukhtar Abbas Naqvi said that government will provide for pre-matric, post-matric, and professional and technical course studies.
The Centre also announced its plan to bring madrasa under the ambit of the formal education system of the country.
This approach of winning "sabka vishwas" received widespread support from Islamic clerics as well as members from the civil society.
Reacting to this, Jamiat Ulema-e-Hind General Secretary Moulana Mahmood Madani appreciated the steps taken by the Centre for Madrasa modernisation but also urged the PM to reign in the "motormouth" in the party who have been making controversial statements targeting minority community and Islam on a regular basis.
"To ensure socio-economic-educational empowerment of minorities especially girls through '3Es- Education, Employment and Empowerment', various scholarships including pre-matric, post-matric, merit-cum-means etc will be provided to five crore students in next 5 years," PTI quoted Mukhtar Abbas Naqvi as saying.
The Centre will also provide more than 10 lakh Begum Hazrat Mahal girls' scholarship in the next five years for economically weaker sections.
Under the madrasa modernization scheme, teachers across the country will be trained by various institutions in subjects such as Hindi, English, Mathematics, Science and Computer so that they can provide mainstream education to the madrassa students.
Related Posts