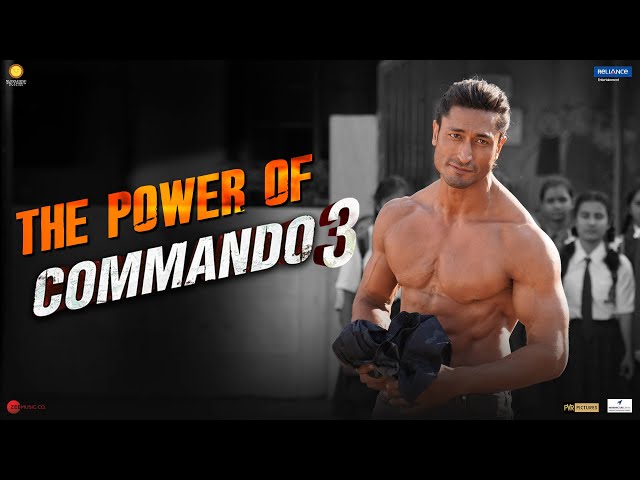 Critic's Rating: 2.5/5
STORY: Upon realising that a massive terror attack is underway, the Indian Special Forces send their best Commando, Karanveer Singh Dogra, to London to nab the mastermind.
REVIEW: 'Commando 3' gets into the thick of things right at the beginning when a police office chases down a group of misled youngsters, which, in turn, leads to a bigger revelation. In a bid to avert the impending terrorist attack, the bureau ropes in Karanveer Singh Dogra (Vidyut Jammwal), who is accompanied by Bhavana Reddy (Adah Sharma), to get to the root of the plan and bring the culprit to justice. The duo receives able support from their British counterpart, Mallika Sood (Angira Dhar) in this mission.
The violence in 'Commando 3' is brutal, bloody and graphic in some scenes. It will take some nerve to sit through those. What works is that the third instalment of the series stays true to its core – it delivers heavy-duty action, with raw hand-to-hand combat and swift chases. Vidyut Jammwal as Commando Karanveer Singh Dogra scores on every action scene, taking it a notch higher -- with his smooth and slick kicks, punches and back flips – it's undoubtedly a sure-shot adrenaline rush. The leading ladies, Adah Sharma and Angira Dhar, too, pack a punch, though sometimes it seems like they are trying too hard. But, it's refreshing to see the women kick some butt, in tandem with the action boys in a hardcore action film. Gulshan Devaiah has impressed with his performances in the past, but here, he doesn't quite stand up to the barbaric and menacing character (Buraq Ansari).
Aditya Datt's 'Commando 3' uses cliché tropes that action thrillers with such subjects usually do, like the hero making a grand entry while a girl is being harassed by a man, scenes replete with loaded patriotic dialogues and many such. The first half of the story has ample action, but it takes time to gather momentum and draw you in. The second half offers some twists and turns; however, the story is so stretched by then, even the high-octane action doesn't keep you as invested. The basic plotline of one brave commando saving the nation at all costs from a series of terror attacks, is trite, but that is not the bigger problem here. The narrative is far-fetched, defies logic and tries to pack in so much that it loses grip and pace at times. The background score attempts to elevate the drama, but is often overbearing.
However, for action buffs, there is enough and more in 'Commando 3'. Vidyut steals the show as the daredevil who can stun you with every blow. Of course, patriotic fervour captures almost every key scene in the film, but what manages to hold your interest is the tension and tact Vidyut adds to every scene with his power-packed action moves.
Related Posts