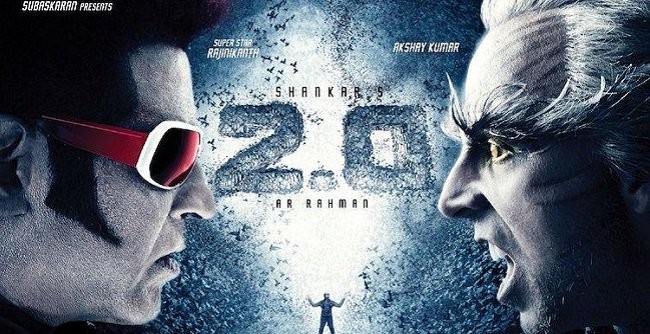 Rajinikanth- Akshay Kumar's sci-fi thriller 2.0 has earned Rs 400 cr in four days from the worldwide box-office. The producers of the film, Lyca Productions, tweeted from their official Twitter handle - History in the making! 400 CRORES WORLDWIDE! Not just a blockbuster, it's a MEGA BLOCKBUSTER
<blockquote class="twitter-tweet" data-lang="en"><p lang="en" dir="ltr"><a href="https://twitter.com/hashtag/2Point0?src=hash&amp;ref_src=twsrc%5Etfw">#2Point0</a> embarks on a FAB START in key international markets... Total till Sunday [2 Dec 2018]…<a href="https://twitter.com/hashtag/USA?src=hash&amp;ref_src=twsrc%5Etfw">#USA</a>: Crossed $ 3.5 million [₹ 24.55 cr+]. Final numbers later.<a href="https://twitter.com/hashtag/UK?src=hash&amp;ref_src=twsrc%5Etfw">#UK</a>: £ 506,587 [₹ 4.54 cr]<a href="https://twitter.com/hashtag/Australia?src=hash&amp;ref_src=twsrc%5Etfw">#Australia</a>: A$ 940,119 [₹ 4.87 cr]<a href="https://twitter.com/hashtag/NZ?src=hash&amp;ref_src=twsrc%5Etfw">#NZ</a> + <a href="https://twitter.com/hashtag/Fiji?src=hash&amp;ref_src=twsrc%5Etfw">#Fiji</a>: NZ$ 181,160 [₹ 87.97 lakhs]<a href="https://twitter.com/Comscore?ref_src=twsrc%5Etfw">@comScore</a></p>&mdash; taran adarsh (@taran_adarsh) <a href="https://twitter.com/taran_adarsh/status/1069524559009730560?ref_src=twsrc%5Etfw">December 3, 2018</a></blockquote>
<script async src="https://platform.twitter.com/widgets.js" charset="utf-8"></script>
At the US box-office, the film has grossed $3,588,450. It has become the highest collecting South Indian film of 2018. Rajinikanth (Kabali and 2.0) along with Prabhas (Baahubali 1 and 2) are the only two South Indian stars who have collected over $3 million in the opening weekend in US.
In India, the Hindi version has netted Rs 95 cr (122 Gross) from North India. The Telugu version of the film is said to have grossed Rs 52 cr in four days. Coming to the key Tamil Nadu market, there is no clarity as theatres and distributors are keeping mum about the figures. The point to be noted here is that gross number also includes the 3D glass charge. But trade practice in India is that the 3D charge only goes to the theatre owner and not to the distributor, one should reduce it and report the gross figure.
If we exclude the 3D charge from the ticket price, the total four days gross in Chennai is Rs 8.94 cr. And if you include the 3D glass charge, the total gross in the city is 10.09cr. In Tamil Nadu as per trade experts the total gross would be in the range of Rs 55- 60 crores for the four days.
Lyca in their tweet mentioned that 2.0 has collected worldwide Rs 400 cr. There is no mention, however, whether it is gross or net and there was no area wise break up. If Lyca Productions has officially announced the four days figure as Rs 400 cr, they are happy with the film's performance at the box-office.
Related Posts