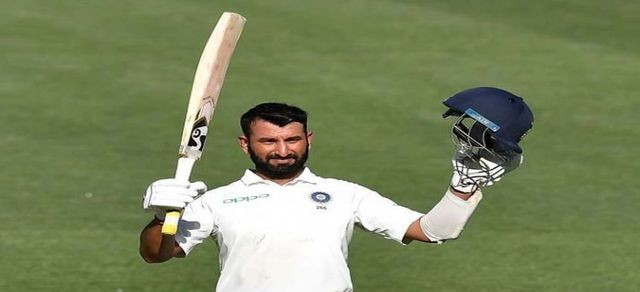 In a day that clearly belonged to the Aussies, India have done well to reach 250/9.
Cheteshwar Pujara showed India the value of patience in waiting for the ball to soften and bowlers to tire, on a day where it touched 40 degrees in the middle, with a magnificent 16th Test hundred.
It's been a brilliant knock from Cheteshwar Pujara in the Adelaide heat with wickets falling around him.#AUSvIND | @toyota_aus pic.twitter.com/py8KvHB86q

— cricket.com.au (@cricketcomau) December 6, 2018
Pujara innings was comfortably his longest in Australia, surpassing the 135 deliveries he faced at the same ground in 2014, and without him India would have been sunk. He moved into the 90s with a top-edged hook for six, India's sixth six of the day, the ball after replays suggested he got a slash on an attempted cut but Australia did not review.
A rasping pull for four took him to 99 the Mohammed Shami was able to give him the strike and Pujara then clipped Mitchell Starc wide of mid-on to reach three figures. Pujara's net sessions may not make viral social media videos, but the value of an old-school innings was there for all to see.
Rohit's moment of madness
Back in the Test side, Rohit Sharma offered a sturdy response to Australia's early dominance by taking a positive approach to his innings while Cheteshwar Pujara largely opted for survival. Rohit had opened his sixes account with a pull before lunch, but that was nothing compared to the lofted drive which flew over deep cover off Pat Cummins early in the afternoon session.
That shot came in the final over of Cummins' spell after which he was replaced by Nathan Lyon. It didn't take Rohit long to try and take on the spinner, just managed to get enough legs on a swipe over the leg side that Marcus Harris caught just inside the rope but couldn't flick back in time before landing beyond the boundary.
Would that prove a warning for Rohit? No, instead it was a motivation to try again. The outcome was ugly as he miscued a heave deep into the leg side and this time Harris settled under a simple catch.
Related Posts