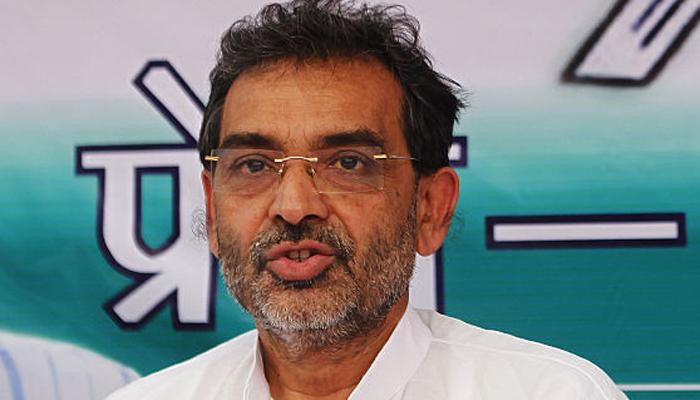 The suspense over Rashtriya Lok Samata Party's exit from the National Democratic Alliance (NDA) continued on Thursday as party president and Union minister Upendra Kushwaha kept everyone guessing by delaying any announcement related to his stay or departure from the saffron alliance.
Kushwaha, who addressed an open convention of party leaders in East Champaran's Motihari on Thursday, cryptically quoted Ramdhari Singh Dinakar, saying: "Hit vachana nahi tune maana, Maitri ka mulya nahi pehchaana, To le mai bhi ab jaata hun, Antim Sankalp sunata hun, Yaachna nahi ab rann hoga, sangharsh bada bheeshan hoga" (You have not paid heed to good advice nor valued friendship. So, I am going ahead with this resolution… that there won't be any further pleas, but a final battle now).
He, however, did not make any announcement related to his "expected exit from the NDA". Kushwaha had served the NDA with November 30 ultimatum to finalise the seat-sharing formula for Bihar, and was expected to make the "big announcement" as deadline expired without any result.
A source said Kushwaha might call on Congress president Rahul Gandhi before taking a final call on the matter. He has already met several Mahagathbandhan leaders in the past few months, fuelling talks of his exit from the NDA.
In a scathing attack on the Bihar government for its "failure in multiple sectors including education", Kushwaha said, "We have seen this government for 15 years now, and it is very clear that until it is ousted from power, Bihar will not develop. I am willing to forgive CM Nitish Kumar's 'neech' remark, if only he agrees to our demands to improve the education sector in Bihar."
Ally Bharatiya Janata Party (BJP) was not spared either as the Union minister launched a two-pronged attack on it over the Ayodhya dispute as well as for acting as Janata Dal-United (JD-U)'s "B-team". "Since when has it become the work of political parties to build temples or mosques? Instead they should build schools. The issue has been raked up only because Lok Sabha polls are at hand," he said and added, "In Bihar BJP, there are several leaders who are acting against the interest of their own party."
Political experts as well as politicians feel "Kushwaha is either buying time for his plans or wants to play the victim card by forcing the BJP to expel it from the NDA" by delaying his "imminent exit".
The NDA has already announced that BJP and JD-U will be contesting on equal number of seat in the 2019 general election though the final figures are yet to be disclosed.
None Spared
Union Min Kushwaha didn't spare BJP either. He launched a 2-pronged attack on it over the Ayodhya dispute as well as for acting as Janata Dal-United's "B-team".
Related Posts