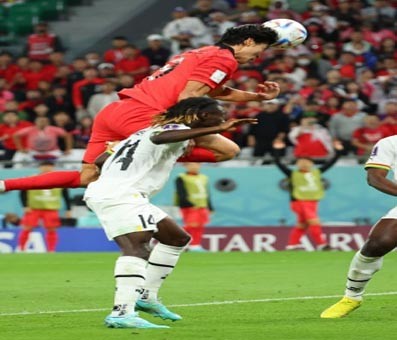 Doha, By losing to Ghana 3-2 in their second Group H match of the FIFA World Cup on Monday, South Korea dug themselves into a hole -- though it's not deep enough that they won't be able to get out of it.

Portugal became the first Group H team to grab a knockout berth Monday night by beating Uruguay 2-0. They have six points from two straight wins and will finish no lower than second place, Yonhap news agency reported.

Portugal will be the final group stage opponent for South Korea, who are in third place with one point, two behind Ghana. Uruguay also have one point, but South Korea hold the edge in the first tiebreak category, goal difference, at -1 to -2.

South Korea will not be able to control their own destiny when they take on Portugal for their final Group H match on Friday at Education City Stadium in Al Rayyan, west of Doha.

The first part of the equation is straightforward. South Korea must win Friday.

And then, if Uruguay beat Ghana that same evening, South Korea and Uruguay will end up tied at four points and a tiebreaker will come in to play, while Ghana will finish in last place. In this scenario, South Korea's margin of victory must be bigger than Uruguay's.

If South Korea win and Ghana win Friday, South Korea will be sent home, with Portugal and Ghana moving on to the round of 16 at six points apiece. A tiebreaker will be necessary to determine the top seed.

In case of a South Korean win and a Ghana-Uruguay draw, South Korea and Ghana will be deadlocked at four points, with Uruguay finishing last with two points.

Ghana currently hold a slight edge in goal difference at 0 to -1. But in the next tiebreak category, goals scored, Ghana enjoy a substantial lead at 5-2.

It will be a tall order for South Korea to score more than three goals against Portugal. The Taegeuk Warriors have never scored more than two goals in any World Cup match before.

And just because Portugal have grabbed a knockout ticket, it doesn't mean they will take it easy against South Korea on Friday. Portugal coach Fernando Santos said after Monday's victory that he will try to win the group and not settle for just a trip to the last 16.

The Group H runners-up will face the Group G winners in the round of 16, and at the moment, world No. 1 Brazil are in a prime position to win Group G.

In each group, final matches kick off at the same time, so as to prevent any shenanigans over group seeding. There will be some anxious scoreboard watching in the stands during Friday's matches, with South Korea and Portugal engaging in action just west of the Qatari capital, and Ghana and Uruguay set to duke it out at Al Janoub Stadium in Al Wakrah, south of Doha.
Related Posts