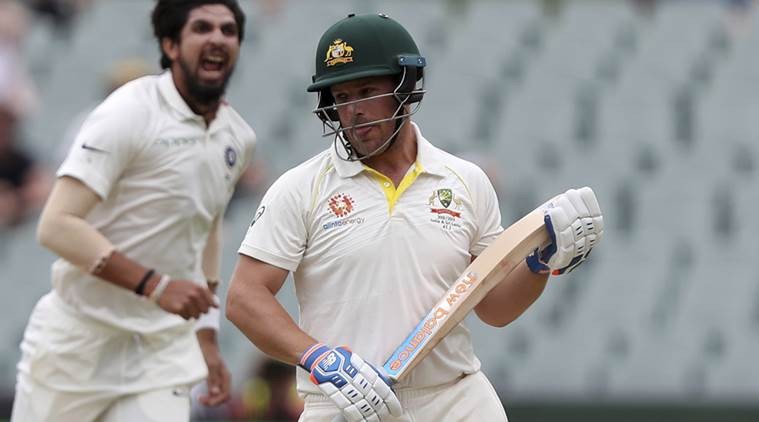 It's the BBL's fault. Or maybe it's the Sheffield Shield pitches – too many green seamers, too many result wickets. They should never have changed the Shield points system. Maybe bowlers are better these days. Too much swapping between red balls, pink balls, white balls, Dukes balls, Kookaburra balls. A proper balls-up. Poor techniques against the swinging ball. Or the spinning ball. Or the seaming ball. Perhaps the pathways are the problem. The Futures League, which turned the state second XIs into under-age sides? Biggest futuristic flop since Plan 9 From Outer Space.
So many theories. So many strands to unravel. How to separate the symptoms from the disease? You'd need Dr Gregory House to sort this mess out. Whatever the case, something ails Australian batting. The patient has been ill for some time – probably a good decade, if we're honest. But its condition has worsened dramatically in the past 12 months. An injection of Steven Smith and David Warner might buy it some time, but won't treat the underlying issue. The vital signs have never been weaker.
Vital sign #1: One Test century in the past year. There are good batsmen who might be disappointed with that tally on their own. But we are not talking about one batsman. We are talking about the entire Australian team. Usman Khawaja made 141 in Dubai in October, and that's it, the only Test hundred made by an Australian in the past 12 months, from 10 matches. Thirty players from around the world averaged 40 in Tests in that time, and not a single one of them was Australian.
Vital sign #2: Matt Renshaw topped the Sheffield Shield run tally last summer with 804 runs. It took him 11 games to get there – Queensland's 10 regular season matches, plus the final. It was in the early 1980s that the Sheffield Shield expanded its schedule to the current format – each state plays each other state twice, and the tournament ends with a final. Never in that time has a batsman topped the Shield run list with a total as low as Renshaw's 804 last year.
Vital sign #3: This summer, for the first time in the nearly 40 years of the Shield's current format, there is not a single active player who has ever scored 900 runs in a Shield season. Ed Cowan, who retired at the end of 2017-18, was the last remaining batsman to have done so. There was a time when 1000 runs in a Shield season was a benchmark that meant you were dominating the competition. From the early 1980s until 2008-09, most years someone managed it. Now it's as much a thing of the past as batting in a floppy white hat, or celebrating a wicket with a handshake.
Vital sign #4: Only two members of Australia's batting order in the Sydney Test average 40 or more in first-class cricket – Khawaja at 43 and Shaun Marsh at 40. Marnus Labuschagne, picked at No.3 in this Test team, averages 33 in first-class cricket. Compare that to India's batting line-up, where the lowest first-class average in their top eight is 46. Five of them entered the Test averaging over 50 in first-class cricket, and six of them have scored triple-centuries. Ravindra Jadeja has three first-class 300s to his name – and he is batting at No.8.
You could search for more vital signs, but it's not really necessary. The problem is obvious. The solution is less so. How do you even begin to address the various factors contributing to Australia's current batting predicament?
Let's start with the most obvious one: the insertion of the Big Bash League into the middle of the Australian season. Back in 2005-06, Cricket Australia introduced its first state-based Twenty20 competition, the Big Bash, which ran for a couple of weeks in early January. Gradually, it grew. A few years later it became the Big Bash League, and went from six state teams to eight city-based sides. It was popular. More matches were scheduled. It has ballooned to the point that this summer it is running from December 19 to February 17. Nearly two full months of Twenty20.
What does this mean? That there is no Sheffield Shield cricket played from December 10 to February 23. Note also that apart from the first Test against India, which finished on December 10, Australia's Tests are all played during this time. Five Tests at a time when no red-ball cricket is being played at state level. So, if the selectors want to replace a player during the Test series, they are effectively plucking him from either T20 cricket or club cricket. Or no cricket at all.
Previously, it was not unusual for the Sheffield Shield to take a break over Christmas and the new year, but typically it was less than a month. And, crucially, the players did not spend that time switching their focus to a format that rewards smashing the ball out of the stadium over building an innings. Is it a coincidence that in the past 10 years, only four batsmen have achieved 1000-run Shield seasons? In the ten years prior, it happened 16 times. In the ten years before that, 15 times.
There has been much discussion during this series about the structure of India's domestic season, in which the Ranji Trophy is the sole focus throughout the middle of the season and the IPL occurs only at the end, when all the red-ball cricket has been played. It sounds good, but it will never happen in Australia. The BBL is aimed at children and families, so it will not be moved out of the school holiday period from Christmas to the end of January. It is too successful.
One suggestion is to run a red-ball state second XI competition in the background while the BBL is on. But let's face it, how many elite players would that really help? There are eight BBL teams, each with 16 squad positions available for local players. That's 128 of the country's best players on BBL duty for two months – excluding those in the Test side. Perhaps the only viable compromise is to block off January for the BBL, and schedule Australia's Tests to always finish with the Sydney New Year Test. It's not perfect – and it still interrupts the Shield season – but it's something.
Then there is the Shield itself. Are run tallies lower these days because pitches are produced for results? That might have been the case a few years ago. Back in 2012-13, Michael Hussey noted a huge difference in Shield pitches compared to the early days of his career. Too many green seamers made batting near impossible. "I'm concerned that batters aren't learning to bat for six hours and construct long innings," he said at the time. That summer, Ricky Ponting played almost a full season for Tasmania having retired from Tests. He was the only man to pass 800 Shield runs that year.
There is little doubt the standard of Shield pitches has improved since then, yet run tallies are still down. Are the bowlers better? Hard to say. What about the change to the Shield points system that was introduced in 2014? Points for a first-innings lead were abolished, and bonus points were introduced for runs or wickets in the first 100 overs of an innings. One theory is that this reduced the incentive to bat long time. But it should be noted that the same system introduced one point for a draw, which rewarded teams who could survive on the fourth day.
Are batsmen being denied a full season of Shield cricket? Yes, if they're in Australia's team in any of the three formats. That's not vastly different from previous eras. Take someone like Steve Waugh, for example. Throughout the 1990s, he rarely played more than four or five Shield games in any season – and often less. But the states had batting depth. In 1993-94, five men topped 1000 runs in the Shield season and only one of them – Matthew Hayden – played for Australia in any format that summer. Perhaps international spots are just easier to get these days.
In that 1993-94 season, 17 men played for Australia in Tests or ODIs; last summer, the number across all three forms was 27. These days you don't have to bash the door down. The door is ajar, and all you have to do is nudge it a little bit.
There are all sorts of reasons, excuses or justifications, but ultimately all that matters is that Australia's batting depth has disappeared. Sorting it out would be a messy process with no guarantees. All that is certain is that the vital signs are poor and the patient is flat-lining. How to treat it? Stuffed if I know. Call Dr House.
Related Posts