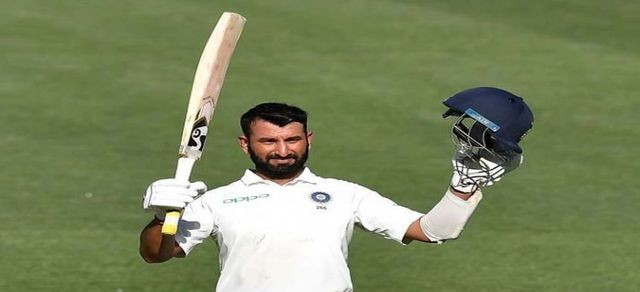 Even as the country is rejoicing India's maiden Test series triumph in Australia and praising Virat Kohli and his captaincy to the skies, the man instrumental in India putting up the scores for their bowlers to successfully defend has been lying low.
Even as debates continue over who is a better batsman, Kohli or Sachin Tendulkar, the highest run-getter of the just-concluded four-Test series is not getting as much mention as he deserves.
Cheteshwar Pujara, the run machine who amassed 521 with three centuries at an average of 74.43, is not complaining, though. He has always remained grounded and not allowed his on-field success get the better of him. For Pujara, Australia is done and dusted and he has already begun focussing on the next task at hand, domestic cricket in the coming weeks for Saurashtra.
The way he batted the Australian bowlers out of the series on his second visit to that country has taken him from being a very good player to being in the company of greats. And of course, a climb to No. 3 in the ICC Test batsman's rankings.
Sachin Tendulkar, with whom Pujara shared his last partnership in Tests before the retiring in 2013, termed the Saurashtra batsman's dominance Down Under as "outstanding".
Asked to single out one magical point in India's maiden Test series triumph in Australia, Tendulkar said here on Wednesday: "I find it difficult to point one moment (of the series). But I think Pujara has been really outstanding. The number of statements on Pujara, which ideally were not in his favour, were undermining his contributions, not knowing that rain was going to save them.
"Not to ignore the bowlers' contribution — the bowlers have done exceedingly well – somewhere Pujara has been instrumental in giving that solid foundation around which the other batsmen went on to score runs. There have been partnerships around him. Virat, Ajinkya Rahane, Rishabh Pant, Ravindra Jadeja scored around him, Mayank Agarwal got off to a good start. But Pujara stands out along with the fast bowlers."
Success in Australia has not come overnight for the 30-year-old hard-working, devoted cricketer. He gives too much importance to preparation. Pujara is one of the few Indian cricketers who plays domestic cricket if not playing for the country. He is often playing for Saurashtra a week before flying out for a Test assignment, and a week after return.
But, he does not have a choice. He is one of the very few to play for the country in only one format and has to keep playing and training to not lose focus and touch. Others playing in other formats have the luxury of facing international opposition and thereby staying in the game. Pujara has to make do with what's available to him in domestic tournaments.
After collecting the man of the match and the man of the series awards on Monday, Pujara was asked at the presentation what was next for him. Humble as ever, Pujara told emcee Isa Guha that he would go back to India and play first-class cricket for his state, and during IPL, he might be playing county cricket in England. "The next Test series is 6-7 months away. That will give me enough time to prepare. I'll work hard on my game to play white-ball cricket. But, Test cricket is my priority, it'll always remain my priority," he said.
The seeds of Pujara's success in Australia, as much as the Indian team's, were sown last year on the South Africa tour. He may not have got runs by the bagful in South Africa and was even criticised for playing slowly. Remember the applause he received in the Johannesburg Test when he took 53 deliveries to score his first run?
But, what many fail to understand is that in consuming deliveries, Pujara is also annoying the bowlers and putting a heavy price on his wicket. That also helps see off the testing phase of the Test and makes it easy for the batsmen to follow. After all, Test cricket is about playing time and seeing off session by session.
With a smile on his face and the responsibility he has towards his team, Pujara has endured needless criticism for his slow batting. Perhaps, it may have even have resulted him in being omitted for the first Test of the England tour last year in Birmingham. "How and why did they leave him out," former England captain Nasser Hussain said on air when Pujara, back in the 11 from the second Test, scored a masterly 132 not out in the fourth Test in Southampton.
And, by the time Australia series started, Pujara had prepared well to take on their bowlers. He thoroughly dominated their most feared bowler, Nathan Lyon, dancing down the pitch to negate the turn and score easy runs.
Pujara's whip off his toes against the pacers to mid-wicket boundary was one stroke that fetched him runs regularly like his other strokes all round the wicket.
There will be more pressure on the No. 3 batsman to score like he did in Australia every time India play Tests in the future. But, Pujara's calm and composed nature will only see him through those moments and carry on the task at hand — to score runs aplenty and make life difficult for the bowlers.
And, to answer Lyon, Pujara is certainly not bored of batting long innings one after another.
Related Posts