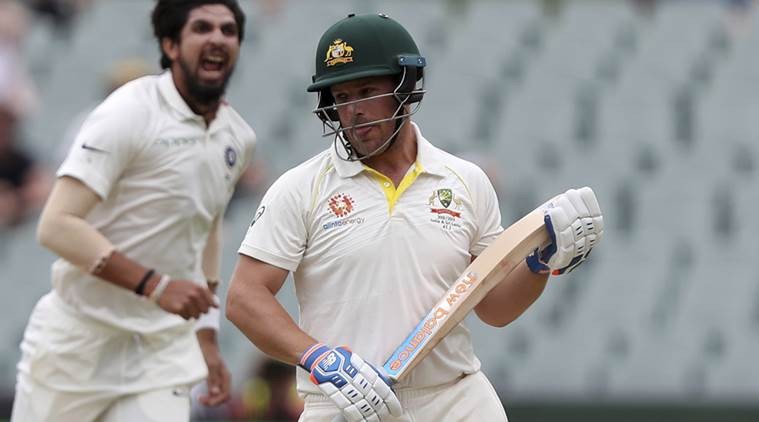 World Cup 2015 champions v World Cup 2011 champions. Two traditional powerhouses in the One-Day format. Australia vs India should ideally be a clash of heavyweights. But such are times that only one team can take the title now. And it's not the current world champions.
India start the series as undoubtedly the more settled side. They've got very few spots left to fill for the World Cup, before which they have 13 ODIs to finetune their preparations. The top three are among the best in the world: Rohit Sharma, Shikhar Dhawan and Virat Kohli. They had issues over the No. 4 but Ambati Rayudu has slotted in nicely, scoring a ton and a 71 against Windies at home in India's most recent ODI outing.
The bowling is more or less sorted too. Jasprit Bumrah has earned a well-deserved rest, while Bhuvneshwar Kumar will be fresh after not getting a game in the Tests. Yuzvendra Chahal and Kuldeep Yadav showed in South Africa last year that they don't need spin-friendly conditions to perform. They will enjoy bowling to batsmen who are traditionally weak against spin, and also the large grounds. There's Ravindra Jadeja, who too has impressed since his return to the format.
Jadeja's presence means India's balance won't be drastically affected even in the absence of Hardik Pandya, who has been suspended pending inquiry along with KL Rahul for their comments on women in a TV show. Rahul is the third opener and was unlikely to be in the XI anyway, but Pandya would have slotted straight in when available. His absence, though, is a blow to India as it means he'll be without international game time for a while longer. He has been out of action since September due to a back injury, and India will want him back soon as he is an integral part of the World Cup plans.
What India will want to test in the upcoming series is the back-up options. Khaleel Ahmed has been impressive in his short career. Mohammed Siraj has got into the ODI side for the first time, with Bumrah rested. Mohammed Shami, once a reliable bowler in ODIs, has been in and out. How they go will be crucial, for India can't always rely on Bhuvneshwar and Bumrah.
Back to the batting. While the bowling is about identifying back-ups, India still have a few questions to answer about their batting. Who after Rayudu? Who is the first-choice keeper? The team management is firmly behind MS Dhoni, but the voices questioning his place are getting louder, and with good reason. Now is the time for Dhoni to justify the faith.
Rishabh Pant - who the chief selector stresses is in the plans for the World Cup - is on the waiting list. Dinesh Karthik is silently making a case for himself too; he has made a comeback after being left out for the Windies ODIs. Karthik has been consistent in whatever opportunities he has received over the last year, and will want to grab the chances, if any.
One of the big issues for India in ODIs is the lack of firepower down the order. Pandya and Kedhar Jadhav have had issues with injuries, and now is the time to settle in to the roles. It's crucial given India have a fairly long tail - Bhuvneshwar is the only bowler who can bat, adding to the pressure on the top order.
For Australia, an even stiffer challenge awaits them in One-Day Internationals after the Test series defeat. It is a format they've struggled the most in recent times, winning just three of their last 21 completed ODIs, and are placed sixth in the ICC rankings in the format. Their last two ODI results are a 5-0 whitewash in England, and a 1-2 loss to South Africa at home.
Unlike in Tests, this can't even be attributed to the absence of Steve Smith and David Warner. Since the World Cup victory in 2015 till Smith and Warner's suspension, Australia won only 27 of their 55 matches, losing 25. The record has only gotten worse with each year; since the start of 2017 till the Smith-Warner bans, Australia won only six of their 20 matches, losing 12. Smith and Warner were an integral part of these sides.
Now, they have eight ODI fixtures - maybe a few more if they squeeze in a series against Pakistan in April - to reverse their fortunes in the format before the World Cup. Each of those eight will be trial by fire, for they're all against India; three at home now, and five in India in March. This could either work in their favour - what better practice than a string of games against a strong ODI side? Or, it could further dampen their spirits and confidence.
Australia have announced their XI for the first game, but for now, it's clear Australia don't have much idea about their starting line-up for the World Cup. It reflects in the squad; they've dropped Travis Head, D'Arcy Short and Chris Lynn, and got in Usman Khawaja, Mitchell Marsh and Peter Handscomb. These are picks more in hope than conviction, hope that a few of them can step up. Hope that Smith and Warner find form immediately on return. Hope that Glenn Maxwell finds peak form in ODIs. Hope that if all this happens, Australia will have a settled batting unit by the time of the World Cup.
'Settled' might actually not be enough for Australia. Surprisingly, they have struggled to keep pace with the rapid changes in batting in white-ball cricket. Australia's selections in the series show that their first aim is to have a steady unit, but as Shane Warne pointed out, the conditions during the World Cup could need a more dynamic batting line-up. Whether Australia can manage that over the next few games remains to be seen.
The tough schedule means Australia will be without their best bowling line-up too: Mitchell Starc, Pat Cummins and Josh Hazlewood have been rested. Peter Siddle is set to play his first ODI in eight years, with Jhye Richardson, Jason Behrendorff and Nathan Lyon being the other bowlers.
India might be starting favourites, but they're certainly not unbeatable. Windies showed that recently, when they won and tied in India. Some of the key players - Dhawan, Rayudu, Pandya and Dhoni - come to Australia without much game-time, and could be rusty. Australia should believe they can catch India by surprise, for they're playing at home after all.
Squads:
India: Virat Kohli(c), Rohit Sharma, Shikhar Dhawan, Ambati Rayudu, Dinesh Karthik, Kedar Jadhav, MS Dhoni, Kuldeep Yadav, Yuzvendra Chahal, Ravindra Jadeja, Bhuvneshwar Kumar, Mohammed Siraj, K Khaleel Ahmed, Mohammed Shami
Australia XI: Aaron Finch (c), Alex Carey (wk), Usman Khawaja, Shaun Marsh, Peter Handscomb, Marcus Stoinis, Glenn Maxwell, Nathan Lyon, Peter Siddle, Jhye Richardson, Jason Behrendorff
Related Posts