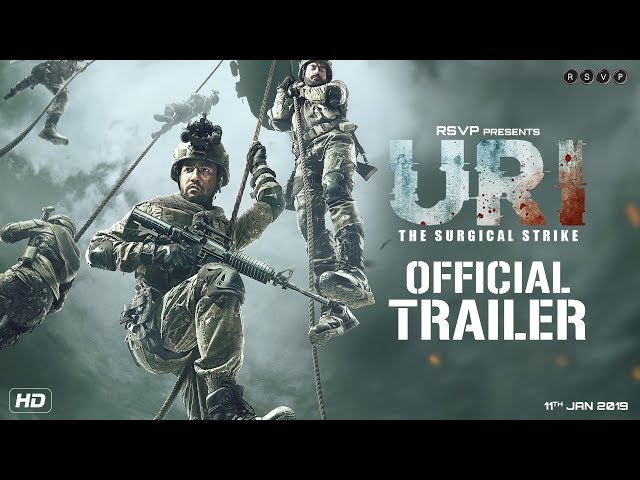 In her six-year-old career, Yami Gautam became one of the few actors to have made a smooth transition from television to big screen. She got the opportunity to work with the cream of Bollywood directors like Shoojit Sircar (Vicky Donor) and Sriram Raghavan (Badlapur) in a short span of her movie career. Also, Kaabil (2017) opposite Hrithik Roshan became the biggest success of her career. And when she was offered the role of an Intelligence Officer in Vicky Kaushal-starrer Uri: The Surgical Strike (released on 11 January), she grabbed it with both hands. Based on true events that happened in the town of Uri near Srinagar on September 2016, the film chronicles the valiant efforts of Indian army commandos who carried out surgical strikes in Kashmir.
"For me, as an actor, it is very easy to get stereotyped in this industry. It is very easy for someone to say, 'Oh, she looks very sweet, or she can play a quintessential girl next door'. It is very difficult to portray a character that shows another dimension of my personality, it can take a little while. But I am glad that Aditya Dhar (Uri director) saw beyond that and he thought that I could play this tough intelligence officer. Uri is very special and it is one of the best teams I have worked with. It's quite refreshing to collaborate with an actor like Vicky. He is a team player that brings such positive energy on sets," said Yami.
Yami plays a pivotal role in the Uri surgical strike operation. While Vicky's character works on the ground with the paramilitary forces, her character works in the Intelligence Department with classified, sensitive information. Her department, National Security Agency (NSA), along with organisations like ISRO (Indian Space Research Organisation) and DRDO (Defence Research and Development Organisation), help with the mission. The actress said that she had to prep hard to understand the layers of her character, "These intelligence officers are always on their toes, so portraying such a character and making it look effortless wasn't easy. But it was one of those roles which kept me charged, excited and inspired," she said.
"But", she continues, "I didn't have to go through any on ground military training. I haven't met any real life intelligence officer. Aditya had met them and those inputs really helped me. They didn't want any references which was good because I could create something of my own. The whole idea was not to overdo things, not try too hard to being an officer and look pretentious. So even if you are saying a line maybe as an expression or ideas and possibilities, what you are thinking has to be within. Why the surgical strike became a landmark moment in the history of Indian military and defence because it was one of the most covert and well planned missions that was executed. You had DRDO, you had ISRO, you had the army and you had NSA involved but not a single person leaked any information and it was extremely classified. The mission happened because of the coherence of all the departments. My department is NSA; it is intelligence services that helps in gathering information," Yami explained.
The actress further said that lot of detailing went into everything including their looks. "There was a certain responsibility that we all felt. The director is of course there to watch your back but we made sure that everything looked authentic. Nowhere should the audience question that, 'Oh, she is looking so basic. Oh, she has done so much make-up, this is not what Intelligence Officers are'. Or when it came to detailing in Vicky's uniform. The feed that we are getting from the army officials is this is one of the first films where they cannot pinpoint any mistake. The first thing the director told me that he wants to make a film that not just the country but also the army is proud of," said Yami. And Yami, while prepping up for her role, cut her hair short. "The whole idea is to suggest that we expect the character to look sharp, prim and proper and not like someone who spends time on hair and make-up … I had to draw a lot from within to play this character. There were not many external references to latch on to," said Yami.
Tight-lipped about her next film, the actress who was last seen in the role of a lawyer in Shahid-Shraddha Kapoor's Batti Gul Meter Chalu, shares that Indian cinema's current phase is liberating for a creative artist. "Actors are pushing their boundaries and the audience is accepting the change. I am, of course, happy. With great modesty and humility, I would say that it is not easy to be here and give voice to your choices. There have been ups and downs in my career. The whole idea is even if there is a low, then how do you sustain yourself and move forward — given the opportunities you have especially when you are making the journey on your own. As far as roles are concerned, whichever directors I have worked with — Shoojit, Sriram Raghavan, Sanjay Gupta, Rakesh Roshan, Aditya Dhar — there is lot of gratitude. I will always be on a lookout for a very substantial and author-backed role. I want to explore myself as an actor and stay inspired which is most important," she said.
"Being associated with Uri, I feel proud. Such films are quite rare and it is not just about box office numbers or commercial success which we all want but it is also about getting recognition and respect. It is one of those rare films and I am glad that it came my way," she concluded.
Related Posts